1966 WORLD TOUR: THE HOME MOVIES - Through the Camera of Drummer Mickey Jones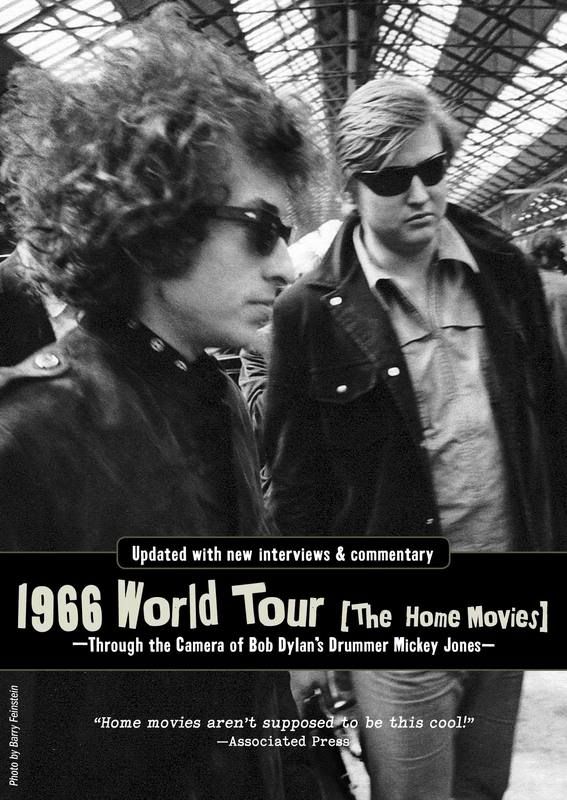 For the first time on home video, musician turned actor Mickey Jones chronicles the legendary 1966 Bob Dylan World Tour through his recently discovered home movies! With a set of drum sticks and his 8 mm color home movie camera, Mickey Jones toured the world in 1966 with Bob Dylan and The Band. He captured on film what became known as the tour that changed Rock and Roll forever - when Dylan traded in his acoustic guitar for an electric sound. This new version includes new, exculsive interviews with Charlie Daniels discussing his 1970's Dylan album recordings, Johnny Rivers and Trini Lopez discussing Dylan's influence on their music, 1966 World Tour soundman Richard Alderson on the tour sound, and Mickey Jones with new revelations, including the surprising truth about Play F#@%ing Loud!", contradicting the conclusion in Scorcese's No Direction Home.
Background Music performed by Highway 61 Revisited:
All Along The Watchtower, Ballad of a Thin Man, Highway 61 Revisited, Like A Rolling Stone, Positively 4th Street, Stuck Inside of
Mobile with the Memphis Blues Again, Subterranean Homesick Blues, The Times They Are A Changin', Watchin' the River Flow
Bonus Features:
5.1 Dolby Digital Audio, Includes Exclusive and Unreleased: Acoustic and electric Bob Dylan and The Band concert footage from Europe and Australia, 1966 Tour photos by rock photographer Barry Feinstein, and 1960's Tour footage of The Beatles, Chuck Berry, Trini Lopez, and Johnny Rivers.
BOB DYLAN - UNAUTHORIZED DOCUMENTARIES BOX SET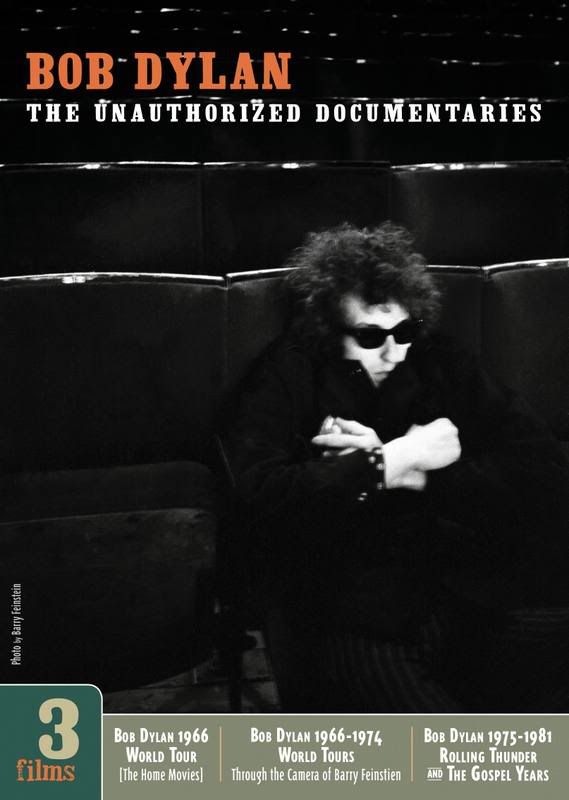 This incredible package contains three full-length films, the "Rolling Thunder" and "The Gospel Years" CD soundtracks, and 9 bonus postcards. The films include "Bob Dylan 1975-1981 Rolling Thunder and The Gospel Years [2006]", "Bob Dylan World Tours 1966-1974 Through the Camera of Barry Feinstein [2005]", and "Bob Dylan 1966 World Tour, The Home Movies Through the Camera of Mickey Jones [2003]". Director Joel Gilbert reveals these monumental periods of Bob Dylan's life and music through insider portraits, exclusive photos, concert footage, and visits to places of great signifigance in Dylan's life. This collection is a must for any fan of Dylan.
"Bob Dylan 1975-1981 Rolling Thunder and The Gospel Years [2006]" - Running Time: 240 min.
"Bob Dylan World Tours 1966-1974 Through the Camera of Barry Feinstein [2005]" - Running Time: 120 min.
"Bob Dylan 1966 World Tour, The Home Movies Through the Camera of Mickey Jones [2003]" - Running Time: 95 min.
JOHN ENTWISTLE - THUNDERFINGERS: A TRIBUTE
This DVD features legendary bass player John Entwistle of 'The Who' in a personal and in-depth interview at his home in Quarwood, Cotswolds UK. The last interview before John's untimely death, it captures his charisma, humor and passion for the unique style and talent he possessed.
He shows his exceptional collection of rare guitars to interviewer Gordon Giltrap and talks about his special moments with his bandmates during his career. Voted 'Bass Player' of the Millennium, John's tributes are many as featured in the touching interviews of Rick Wakeman, Lemmi (Motorhead), Bill Curbishley (Manager, The Who), Philip Spalding, Dave Lambert (The Strawbs), Jeff 'Skunk' Baxter (Steely Dan) and his family.
Rather than rest on his past triumphs with The Who, John Entwistle loved any chance to get out and play. He liked to get close to his audience in an intimate atmosphere "so they can see what I'm doing." His love of playing live saw him perform in every situation imaginable. Everyone agrees that seeing John Entwistle perform live, whether at Madison Square Garden or a local pub, was to see a spontaneous display of musical genius. This DVD provides a truly intimate look at the man behind the music.
IAN GILLAN BAND – LIVE AT THE RAINBOW 1977
Guitarist RAY FENWICK recalls: "Touring with the IAN GILLAN BAND in the 70s was a wild affair, both on and off stage. …we courted our fair share of controversy, but come show time we turned into a tight professional outfit, performing our own unique brand of rock music. [In front of a full house at The Rainbow Theatre in London on May 14, 1977] …presented on this DVD, is an important chapter of an essential British Rock performer, whose successes have now spanned four decades."
Tracks:
Twin Exhausted, Clear Air Turbulence, Money Lender, Child In Time, Smoke On The Water, Woman From Tokyo, Twin Exhausted
Bonus Features: Ray Fenwick Interview; Japan Tour Interview with Ian Gillan; 23 Minutes Featuring Songs:
Finally the Finale, My Baby Loves Me, Down The Road, You Make Me Feel So Good, Scarabus, Reaching Out
THE KORGIS – DVD KOLLECTION
This first ever Korgis DVD is a mixture of stunning live sessions recorded in 2005, original promo videos, interviews with band members, and 'Off The Leash' Korgis documentary, which delves into topics such as Andy's time with Tears For Fears, James recording session at Abbey Road with George Martin, and John's performance on the Tears For Fears album 'Elemental.'
Tracks:
Cold Tea, Dumb Waiters, If I Had You, I wonder What's Become Of You, That's What Friends Are For, If its Alright With You Baby?, Perfect Hostess, All The Love In The World, Everybody's Got To Learn Sometime, Young 'n' Russian, This Worlds For Everyone, Lines, It Wont Be The Same Old Place, If It All Comes Down To You
Bonus Features: ARCHIVE VIDEOS:
Everybody's Gotta Learn Sometime DNA Mix, Hold On, One Life, Everybody's Gotta Learn Sometime
; NEW SINGLE:
Something About The Beatles
; OFF THE LEASH
AC/DC - A CLASSIC ALBUM UNDER REVIEW: BACK IN BLACK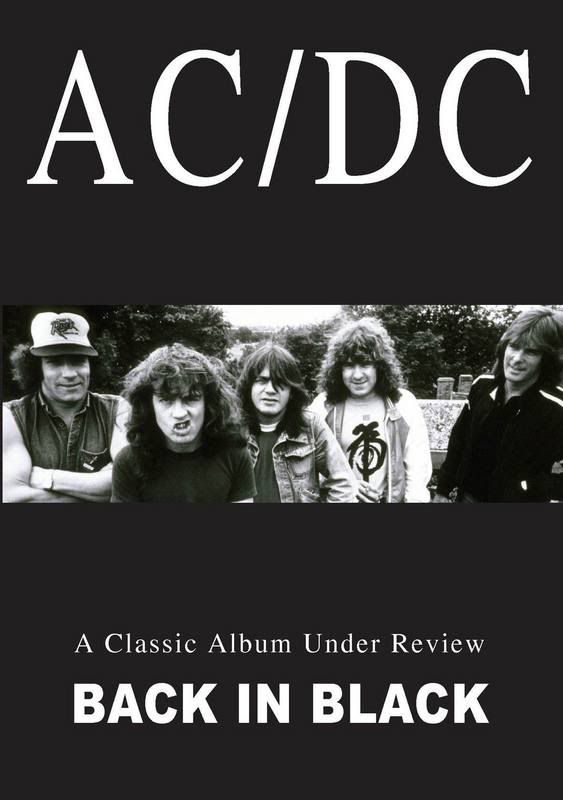 This DVD documentary is the ultimate review and critical analysis of AC/DCs most influential and successful album. With the entire album dissected track by track, and with rare footage, band interviews and live performances all under the gaze of our panel of esteemed experts, this could be the most thorough exploration of this band yet.
Includes: Rare musical performances; Comment, criticism and insight from; engineer for Back In Black and Highway To Hell sessions, Tony Platt; rock journalist, Total Rock FM DJ and AC/DC expert, Malcolm Dome; AC/DC biographer Paul Stenning, Classic Rock magazine's Jerry Ewing; BBC 6 Music DJ Jane Gazzo, AC/DC author Clinton Walker and more.
Bonus Features: 'Tony Platt In The Studio With AC/DC'; 'The Hardest AC/DC Back In Black Quiz In The World Ever', full contributor biographies and 'Beyond DVD' section.
JOY DIVISION - UNDER REVIEW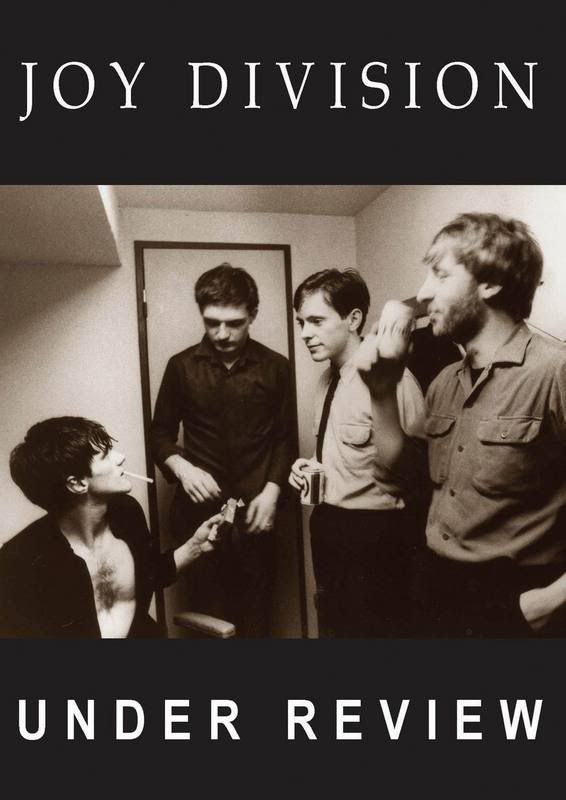 This 70-minute documentary covers the entire career of Joy Division, one of Manchester and Post-Punks most respected bands. It charts the entire short lifespan of the group, from their origins in their days as Warsaw to the more well known incarnation of Joy Division.
Includes: Rare musical performances, Obscure footage of rare interviews and rarely seen photographs; Review, comment, criticism and insight from; Mick Middles, co-author of Torn Apart: The Life Of Ian Curtis; former NME and Melody Maker journalist, Barney Hoskyns; Ex-Mojo Magazine editor, Pat Gilbert; Manchester punk musician and author, John Robb; music journalist and author David Stubbs; and more.
Tracklist: Live and studio recordings of Joy Division classics such as:
Transmission, Shes Lost Control, Atmosphere, Love Will Tear Us Apart,
and
Shadowplay
.
Bonus Features: Rare transcribed Ian Curtis audio interview, 'The Hardest Joy Division Quiz in the World Ever,' Contributor biographies, and 'Beyond DVD' section.
THE PIXIES - loudQUIETloud
loudQUIETloud is an intimate portrait of the band members and their difficult, tense and ultimately triumphant return as one of rock music's greatest bands.
When college rock darlings the Pixies broke up in 1992 on the cusp of mainstream success, their fans were shocked and dismayed. When the Pixies reunited in 2004, those same fans and legions of new listeners were ecstatic and filled with high hopes. loudQUIETloud follows the rehearsals and the warm up shows for the full-fledged, sold out reunion tour. It also catalogs, in the cinema verite style of the Rolling Stones' "Gimme Shelter" and Bob Dylan's "Don't Look Back", the less glamorous side of the touring band lifestyle, getting as close to this enigmatic act as anyone is ever likely to get. Old wounds have not completely healed and the extreme pressure of the tour takes its toll on the band, but nevertheless, they deliver the goods onstage.
loudQUIETloud captures the Pixies, their families and their fans in what seems to be a once in a lifetime chance at rock n roll redemption.
Tracklist:
Where Is My Mind?, Hey, Here Comes Your Man, Umass, Caribou, Gouge Away, Nimrod's Son, In Heaven, Wave Of Mutilation, Something Against You, Bone Machine, Cactus, Vamos, Monkey Gone To Heaven, Iris.