ROOTS DAUGHTERS - A Historical Documentary on Rastafari Culture from the Female Perspective
Available on DVD August 29, 2006 Through MVD Visual
DVD Visual and Fari Int. Productions are pleased to announce the home viewing release of Roots Daughters for worldwide distribution on DVD.
Bianca Nyavingi Brynda's powerful and unique documentary stars Judy Mowatt and focuses on the Rastafari movement from the woman's perspective. Roots Daughters not only traces the origins of Rastafari roots from Africa, but it also examines various groups of Rasta-women from Jamaica, Guyana, South America, and Canada and their diverse social, political, and economic reality.
Beautifully shot on location by the award winning cinematographer Derek Rogers, the film focuses on the Rasta-women's fight for equality in a male dominated culture. Nyahbinghi, the central ritual of Rastafari, which includes drumming, chanting, and reasoning, is featured for the first time. Also, critical Rastafarian figures are profiled, including Emperor Haile Selassie (the spiritual leader of Rastafari), Marcus Garvey (Jamaica's Black Freedom fighter), and musical prophet/reggae superstar Bob Marley, who helped spread the movement around the world through his music.
Roots Daughters offers the viewer a rare opportunity to explore the organic and often complex Rastafarian world from the female's perspective. It's an evocative, thought-provoking, touching and unique testament to this intriguing culture.
Festival Screenings:
ROTOTOM SUNSPASH 2006 – Osoppo, Italy (Biggest Reggae Festival in Europe)
BERLIN INTERNATIONAL FILM FESTIVAL - WORLD PREMIER SCREENING - Germany
BLACK INT. CINEMA FESTIVAL –
NOMINATED FOR THE BEST FILM AWARD - South Bend, Indiana
BLACK INT. CINEMA FESTIVAL - New York, New York
USA BLACK INT. CINEMA FESTIVAL - Berlin, Germany
NATIONAL EDUCATIONAL FILM FESTIVAL - Oakland, California
WINE COUNTRY FILM FESTIVAL - Napa Valley, California
LEEDS INTERNATIONAL FILM FESTIVAL - Leeds, England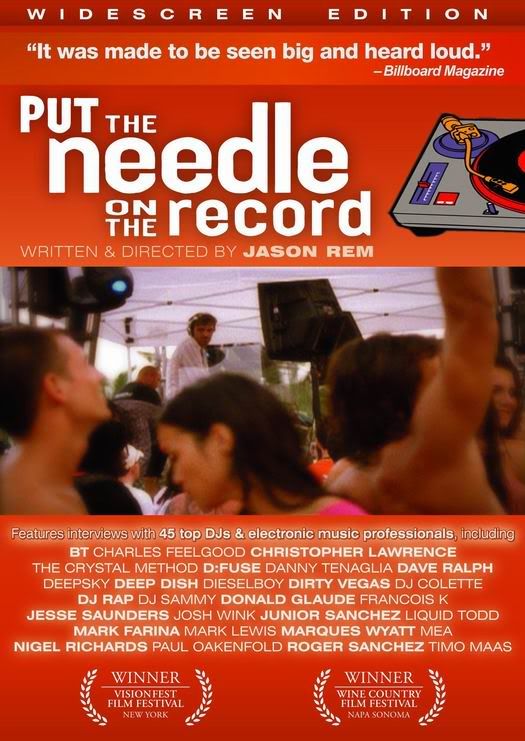 PUT THE NEEDLE ON THE RECORD - A Documentary on the Global Phenomenon of Electronic Music
Available on DVD September 19, 2006 Through MVD Visual
MVD Visual is pleased to announce the home viewing release of PUT THE NEEDLE ON THE RECORD for worldwide distribution on DVD.
A global phenomenon has been brewing for the past 20 years. Electronic music, known as house, techno, trance, drum & bass and a variety of other names, has permeated many aspects of entertainment around the globe. How this music evolved and the people who create, consume and play these genres of music is a twisting tale unto itself. That was filmmaker Jason Rem's influence in creating PUT THE NEEDLE ON THE RECORD, his first feature length documentary project. Each year in March, the major players from this industry and tens of thousands of fans descend upon Miami, Florida to take part in the hot and sexy Winter Music Conference. This five day jolting music extravaganza features a non-stop parade of the biggest talent in the world playing at the grandest and smallest venues in a town well known for its ability to party.
The award-winning film explores a multitude of subjects ranging from the music's journey to its present form, the rise of the Superstar DJ as a global phenomenon, the overlooked business aspects of DJ'ing and producing and the fans who can't get enough. The documentary also gives behind the scene glimpses of DJ's, promoters and others in action as they make their way through the hectic and fun filled week in Miami. The film has been called "A rock solid documentary," and "An event to savor in wonderment," and is not to be missed.
"It was made to be seen big and heard loud." – BILLBOARD
"A perfect example of documentary filmmaking at its absolute best!" – MICROCINEMA
Interviews with: ALI SHIRAZINIA (DEEP DISH), BEN HARRIS (DIRTY VEGAS), BT, BRETT BALLOU,
CHARLESFEELGOOD, CHRISTOPHER LAWRENCE, D:FUSE, DANNY B, DANNY TENAGLIA, DAVID IRELAND, DAVE RALPH, DAVID COLEMAN, DIESELBOY, DJ COLETTE, DJ RAP, DJ SAMMY, DONALD GLAUDE, ERIC SILVER, FRANCOIS K, J. SCOTT G (DEEPSKY), JASON BLUM (DEEPSKY), JASON BENTLEY, JESSE SAUNDERS, JOSH WINK, JUNIOR SANCHEZ, KEN JORDAN (THE CRYSTAL METHOD), LIQUID TODD, MARK FARINA, MARK LEWIS, MARQUES WYATT, MEA, NIGEL RICHARDS, PAUL HARRIS (DIRTY VEGAS), PAUL OAKENFOLD, PAUL PARENTE, PETER RAUHOFER, PIMP DADDY RUSSELL, RAYMOND ROKER, ROGER SANCHEZ, RUDYRYF, SCOTT KIRKLAND (THE CRYSTAL METHOD), SEN-SEI, SHARAM T A YEBI (DEEP DISH), SHIFTY SHELLS HOCK, STEVE SMITH (DIRTY VEGAS),

Soundtrack by: ACROPOLISRPM, ALLUV RECORDINGS, ANDY CALDWELL- MARQUES WYATT REMIX, AWESTRUCK PRODUCTIONS, BELL MANAGEMENT, CHAKA KAHN - ASHFORD & SIMPSON, CHERRY LANE MUSIC PUBLISHING COMPANY, INC., CHRISTOPHER LAWRENCE, CHRYSALIS MUSIC GROUP USA, CIRRUS, CLANGER, INC., DAVE RALPH, DAVID COLEMAN & SEN-SEI, DEEPSKY, DEVIATE, dIESELBOY & JOSHUA RYAN, DJ DAN, DJ FEELGOOD, DJ MICRO, DOONAN, DUSTIN, ELECTRIC MONKEY RECORDS, INSPIRIT MUSIC, LTD., JOY, KINETIC GROOVES, KINETIC RECORDS, LLC, MEZZ, MIKIE SMITHERS, MIXOLOGY, MOONSHINE CREATIVE MEDIA, LLC, NICK-O-VALMUSIC, COMPANY, INC., & PEN PUBLISHING, RALPH & WHALEN, RICHARD HUMPTY VISSION, SLY VS LORIMA, SMITTY & DAVENPORT - MONKEY BARS REMIX, SPEAKER JUNKIES, STRATUS - DIESELBOY & KAOS REMIX, SUBLIMINAL RECORDS, SUNKISSED RECORDS, SUPERSTAR PRODUCTIONS, SYSTEM RECORDINGS, TAINTED FREQ MUSIC, TEAPOT, THE BREAKTHROUGH BROTHERS, THE FRESHEST, THE GREENWICH MUSIC GROUP, INC., THE LA TIN PROJECT, THOMAS MICHAEL - FEATURING: ROXANNE,
TIMO MAAS, TOUCHDOWN PRODUCTIONS, VERB - JOSHUA RYAN REMIX, WALL Y CALLERIO, WARNER
SPECIAL PRODUCTS, WHO DA FUNK - FEATURING JESSICA EVE.
ROCK FRESH
Available on DVD August 29, 2006 through MVD Visual
ROCK FRESH is an electrifying documentary that journeys into the mystical world of graffiti art, uncovering the inspiration and technique of some of graffiti's most prolific artists. Kofie, Trixter, Clae, Axis and Tyer emerge as individuals on a heroic journey. The camera follows these colorful personalities and talented artists as they undergo the difficult transformation from boys to men – experiencing tragedies and triumphs prevalent in one's coming of age.
Graffiti art has always been acknowledged as a subversive culture – an almost secret society of agents determined to express their artistic integrity behind the cloak of anonymity. Their art has been revered as both beautiful and destructive. It captivates the eye and challenges the mind. It sometimes appears to defy the impossible – showing up on tremendous skyscrapers and highway overhangs overnight. These artists' exceptional technique and powerful insight into the collective consciousness of the urban youth has captured the attention of mega corporations such as Nike, Gucci, and Toyota, who have asked these individuals to create their marketing campaigns and re-invent their brand image.
The five artists featured in this film face the challenge of trying to make a living out of doing what they love – integrating their work into society and pop culture – while remaining true to the essence of their original mission. Their stories echo those of the great street artists Jean Michel Basquiat and Keith Haring.
Destined to make an impact – ROCK FRESH was the first out of the gate and at the forefront of the explosion of the renewed interest in graffiti and street culture. The film has been featured on SHOWTIME to an overwhelming response, maintaining an average of 2-4 airtimes a week. The film will continue to be featured on Showtime until 2007. Upcoming airdates at www.sho.com. The film was made possible in part with gracious support of Lucasfilm, the Bruce Lee Family, Nike, and the Jimi Hendrix Family.
THEATRICAL SCREENINGS
AFI Fest 2004 World Premiere (LA, CA)
H20 Film Festival 2004 (NY, NY)
GQ Magazine and Scion Screening 2004 Sponsored Screening (LA, CA)
Newport Beach Film Festival 2005 (LA, CA)
Oulu Film Festival 2005 (Oulu, Finland)
Tiburon Film Festival 2005 (Bay Area, CA)
Denver Starz Film Festival 2005 (Denver, CO)
San Francisco World Film Festival 2005 Opening Night Film (San Francisco, CA)
Black Soil Film Festival 2005 (Amsterdam + Rotterdam, Netherlands)
Metro Cinema Film Series 2005 (Montreal, CA)
Rhythm of the Line Film Festival 2006 (Berlin, Germany)
Hip Hop Film Festival 2006 (LA, CA)
Documenta Film Festival 2006 (Madrid, Spain)